Healthy Avocado Chocolate Cookies
Healthy Avocado Chocolate Cookies from "Sprouted Fig" by Josephine Meineche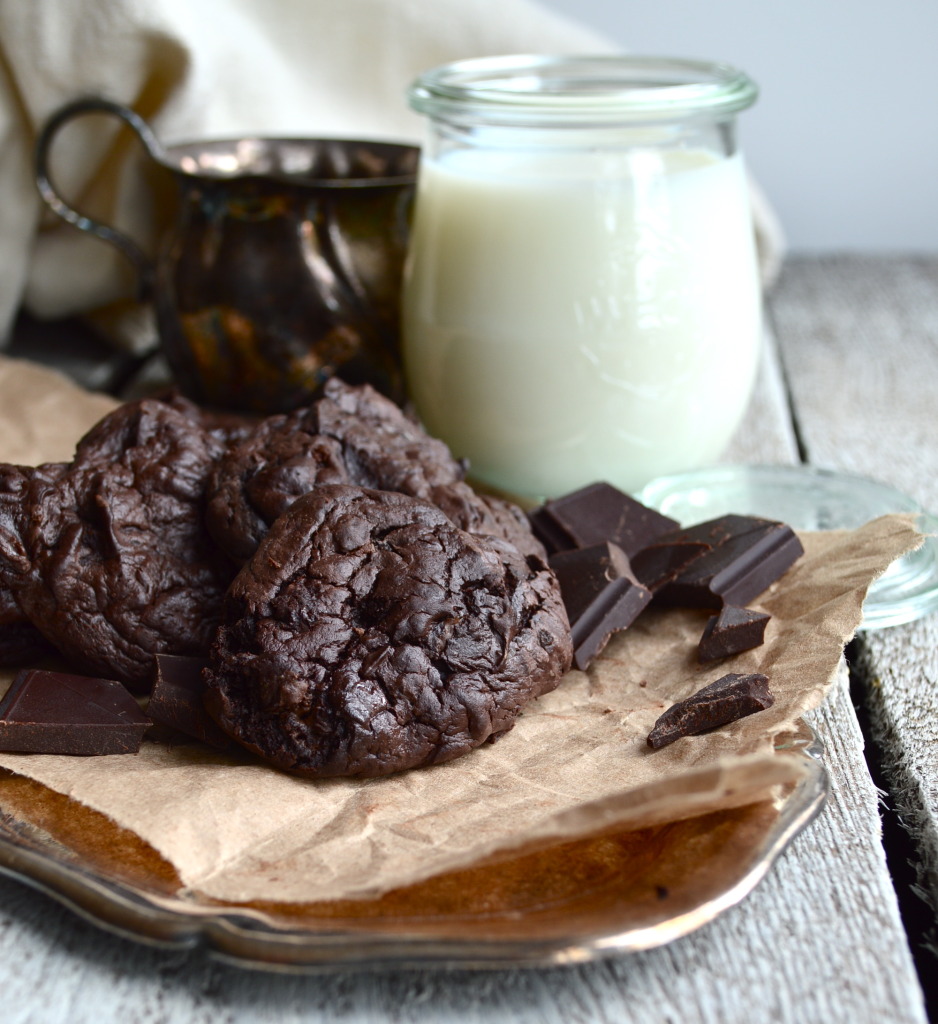 These Healthy Avocado Chocolate Cookies are absolutely best when completely cold. Storing them in the fridge over night makes them perfect – * Some people might like a bit more sweetener. I like my cookies bitter. – * Instead of coconut sugar you can use 1/2 cup of honey – * I recently made a batch of these using 1 banana instead of the coconut sugar. The result was great. If using banana instead I highly recommend making the cookies using the food processor method. – CALORIES: I do not usually count my calories for personal reasons, but one reader has calculated them for me: If you sub maple syrup for honey and add one tbsp. oat flour and make ten cookies each one has 75 calories
Prep Time: 5 minutes
Cook Time: 8 minutes
Yield: 10 cookies- 1 cookie equals 1 fruit and 1 fat
Ingredients
100 g. (3/4 cup) avocado flesh (very ripe, but not brown)
½ cup (120mL) coconut sugar (*SEE NOTES)
1 egg (FOR VEGAN VERSION SEE BELOW)
½ cup (120mL) dark cocoa powder
50 g. dark chocolate chunks (I used 85% cocoa)
½ tsp. baking soda
Instructions
Preheat oven to 175°C / 350° F.
In a bowl using a hand mixer (or make everything in a food processor), mix together avocado and coconut sugar until smooth. Add in the egg.
Mix in the cocoa powder and baking soda.
Stir in chocolate chunks.
Using two spoons place dollops of cookie dough in a baking sheet with parchment paper. The cookie won't spread as much as usual cookies when baking, so make sure to flatten them out a bit with the back of the spoon.
Bake for 8-10 minutes or until the cookies don't stick as much to the paper as they did before baking.
Cool down. Store in an airtight container in the fridge.
Readers' notes
– If using banana you might have to bake them for a little longer. Also, I recommend not using a big banana
– Readers have tried adding all different kinds of delicious add ins – try for instance mint, peanut butter cups, cocoa nibs etc.