Grilled Cheeseburger Wrap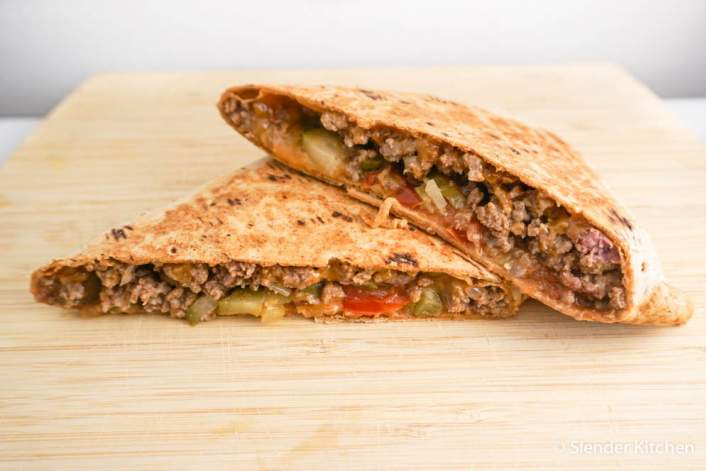 WHATS FOR DINNER TONIGHT?
Sometimes you just need a cheeseburger!  Enjoy
Grilled Cheeseburger Wrap
Prep Time:  5 Min
Cook Time:  20 Min
Total Time:  25 Min
Servings:  4
PNC CLIENTS – 6 Meat/Protein, 1 Grain and 2 Veg. Adjust portions to meet your custom PNC program
Ingredients
1 lb. 95% lean ground beef
1/4 cup onion, diced
2 tbsp. ketchup
1 tbsp. mustard
1 tbsp. Worcestershire sauce
Salt and pepper
4 Flatout light wrap (or flour tortillas, Almond Flour or Coconut Flour Wraps)
1 cup reduced fat shredded cheddar cheese
1/2 cup dill pickles
1 tomato, sliced
1 cup lettuce
Directions
Heat a nonstick pan over medium high heat. Add the ground beef and onions. Cook until beef is fully cooked, about 8 minutes.
Stir in the ketchup, mustard, and Worcestershire sauce. Taste and season with salt and pepper.
Lay out the low carb wraps (you could use flour tortillas as well) and add ¼ cup cheddar cheese in the center. Place ¼ of the ground beef mixture on top and then the pickles, tomatoes, and lettuce. (I don't like my lettuce cooked so I add it on top after.)
Fold like a burrito and then grill/panini to seal everything together.