Buffalo Chicken Quesadillas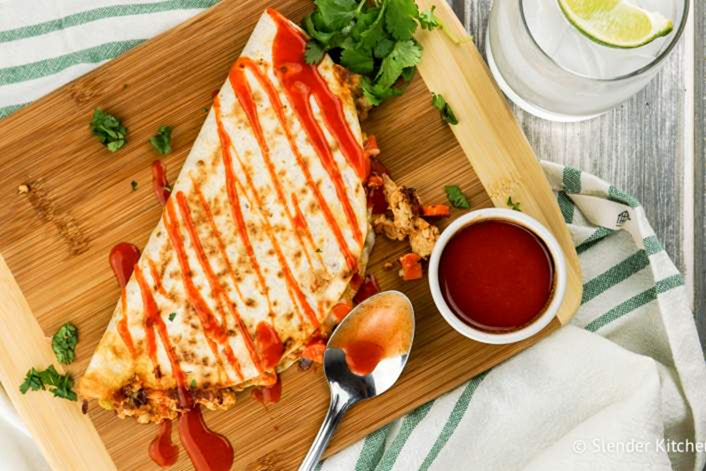 Satisfy your desire for comforting Mexican Food with these Buffalo Chicken Quesadillas! Not only are these quesadillas delicious they are healthy too!
PNC Clients –  Make changes based on your custom menu
½ Grain, 2 Veg and 7 Meat/Protein –  If you get less protein just adjust the amount of Chicken, Turkey or Beef.
Prep Time:
5 MIN COOK TIME:  20 MIN TOTAL TIME:  25 MINUTES
Servings:
4
Ingredients
1 lb. 95-93%% lean ground chicken or Turkey or Beef (or shredded chicken breasts)
2 carrots, diced
2 celery ribs, diced
1/2 tsp. garlic powder
1/2 tsp. onion powder
1/2 cup buffalo sauce (like Frank's) or https://www.tessemaes.com/products/mild-hot-sauce
4 low carb wraps ( less than 15gC a Piece)
1 cup reduced fat shredded cheddar cheese- Use organic if available
1/4 cup cilantro
Directions
Heat a skillet over medium heat and spray with cooking spray. Add the chicken, celery, and carrots. Cook for 6-8 minutes until chicken is cooked through. Stir in garlic powder, onion powder, and buffalo sauce.
To assemble quesadillas, lay out each wrap and sprinkle 2 tablespoons of cheese on half of the wrap. Top with chicken mixture and 2 more tablespoons cheese. Fold and heat in a nonstick skillet sprayed with cooking spray until cheese melts. Flip and continue cooking on other side until wrap gets crispy.