Blackened Salmon with Garlic Zucchini Noodles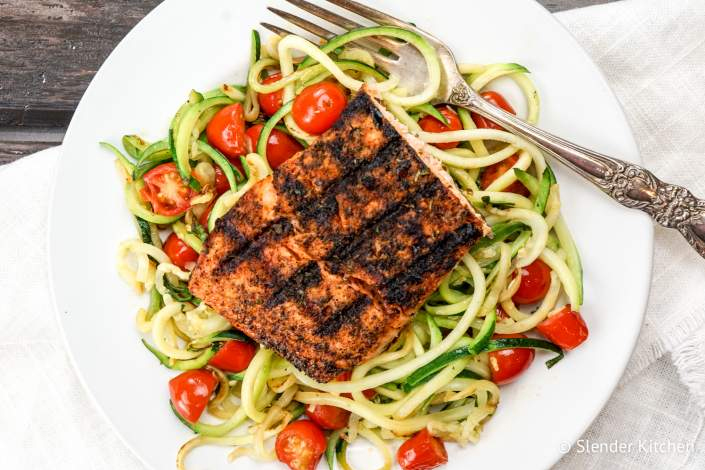 As with all recipes, try to use certified ingredients when possible.
Prep Time:  10 Min
Cook Time:  15 Min
Total Time:  25 Min
Servings: 4
Serving Size: 6 oz. salmon and 1 cup noodles
PNC CLIENTS –  5 Meat/Protein and 2 Veg –  Make sure you manipulate recipe to meet your custom PNC plan
Ingredients
1.33 lbs. wild caught salmon fillets (skinless if possible)
2 tsp. smoked paprika
1/2 tsp. salt (Himalayan salt)
1/2 tsp. garlic powder
1/4 tsp. pepper
1/4 tsp. onion powder
1/4 tsp. dried oregano
1/8 tsp. chili powder (more to taste)
2 tbsp. olive oil, divided-
2 zucchini, cut into noodles
1 cup cherry tomatoes
2 garlic cloves, minced
1 lemon
Directions
Mix together the smoked paprika, salt, garlic powder, pepper, onion powder, oregano, and chili powder. Pat the salmon dry using a paper towel and press the spice mixture onto the salmon on both sides. (If you salmon has skin, just coat one side of the fish.)
Prepare your zucchini noodles using a spiralizer, sharp knife, or vegetable peeler. If time permits, sprinkle the zucchini noodles with salt and place in a colander. This will remove some of the moisture and result in a firmer noodle.
Heat half the olive oil over medium high heat in a heavy skillet. Cook the salmon for 3-4 minutes per side. Remove from the pan and set aside. Tent with foil to keep warm.
Add the remaining olive oil to the pan along with the garlic. Cook for 1 minute. Add the zucchini noodles and tomatoes. Cook for 3-5 minutes until al dente. Season with salt and pepper.
Serve salmon over the zucchini noodles with lemon.